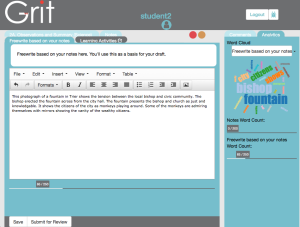 The Game of Writing is being used for the first time in a writing course WRS 102 Writing in the Disciplines. This course is the first test of the online gamified writing environment that started as a GRAND prototype research project but not the last – we expect 200 students to enroll in the fall 2014 class.
The Game of Writing, or GwRIT (account needed), is an online writing environment that can be used in a writing course to support student writing development. An interdisciplinary team at the University of Alberta have built GwRIT so that it can be a platform for representing information about a user's writing back to them through analytics or gamification components. Our working hypothesis is that gamification and analytics can be playful ways of representing real information back to users so that they can make decisions and possibly be motivated to write differently. GwRIT combines composing tools (word processing), reviewing opportunities (commenting), research guidance (resources), models for writing (sample documents), and advice about writing (from a variety of sources) through the GwRIT interface. 
But what sets GwRIT apart from other online learning systems is its focus on student writing in a social network. Innovative aspects of this course include students' sharing their progress on the assignments with peers and the instructional staff; the ability for all students to see who is working on the same assignments; and the ability to ask for help or advice from those other students. In addition, feedback and informal assessment is available online from peers in the class; from paid peer tutors; from GTAs; and (eventually) from alumni. Commenting in GwRIT takes advantage of social networking practices by allowing students and instructors to give a "thumbs up" or "thumbs down" in response to comments. Instructors can also "pin" a comment to the top of the comments list, which appears in a window alongside the word processing window. Students learn what makes for a good comment by reviewing comments that get both a "thumbs up" from the writer of the text and also gets "pinned" by an instructor to the top of the comments list. By writing in this social network and learning from analytics derived from their writing, we have created an innovative and exciting approach to improving student writing.
GwRIT started as a prototype developed with GRAND support by investigator Geoffrey Rockwell. GwRIT was then redeveloped for use in writing courses in partnership with Roger Graves and Heather Graves of the University of Alberta's Writing Across the Curriculum Initiative. The development was supported by the Faculty of Arts, the Centre for Teaching and Learning and University of Alberta Blended Learning Award. With the first blended course run with GwRIT we now have a platform for the innovative teaching of writing.
A short paper on Gamification, Research and Writing was presented at "Building partnerships to transform scholarly publishing", Whistler, BC, February, 2014.