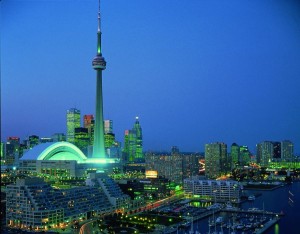 Toronto is one of the most cosmopolitan cities in the world; a place where international ideas intersect with Canadian culture. A centre of rare openness, warmth, energy and style, Toronto is enriched by the fusion of traditions, passions and perspectives on life of the more than 100 cultures found here.
A city of contrasts, Toronto's skyline includes the CN Tower, one of the Modern Wonders of the World and glass skyscrapers juxtaposed with historic limestone facades. Miles of waterfront, boardwalks, parks and trails nestle together with urban delights like cafés, artisans' exhibits and one-of-a-kind shops.
Recent "starchitectural" enhancements to prominent arts attractions have prompted pundits to refer to a "cultural renaissance" taking place in Toronto. Daniel Libeskind's addition to the Royal Ontario Museum, Frank Gehry's renewal of the Art Gallery of Ontario and the wholly new Four Seasons Centre for the Performing Arts, designed by Jack Diamond, are just a few of the remarkable additions to the cityscape.
Beyond the city limits are breathtaking attractions within bucolic countryside. Experience the wonder of Niagara Falls, a renowned wine region, outstanding theatres and outdoor adventures—all within a short drive.
Nightlife abounds with some 200 dance and theatre companies offering everything from mega-musicals to avant-garde works, Toronto rivals New York and London with its live theatre offerings. Clubs offer enticing distractions including hot jazz, side-splitting comedy, acoustic artistry and celebrities taking in the latest DJs.
Conference Hotel
The conference hotel is the Hyatt Regency Toronto
370 King Street West,
Toronto, Ontario, Canada M5V 1J9
Tel: +1 416 343 1234    Fax: +1 416 599 7394
Maps & Directions
The Hyatt is centrally located in downtown Toronto and is next door to the TIFF Bell Lightbox, where we will be holding events April 25th.  A shuttle bus will take attendees from the Hyatt to York University April 26th, 27th and 28th.
GETTING TO THE CONFERENCE HOTEL
Public Transport in Toronto
The Toronto public transit system is known as the TTC (Toronto Transit Commission) and includes buses, streetcars and subway trains. A one-way fare on the TTC is $3.00 CDN (exact change required), but tokens are also available for a reduced price if bought in quantities of five or more at the subway stations. Day passes are also available. See http://www.ttc.ca for more information.
The nearest subway stop to the hotel is St. Andrew station. Walk 5 minutes west on King Street to St. John Street (TIFF Bell Lightbox) or additional 2 minutes to Hyatt Regency hotel.
From Pearson International Airport:
Taxi:
A taxi fare from Pearson International Airport to downtown Toronto, depending on the traffic, costs approximately $60 CAD and takes about 45 minutes.
Airport Express:
This commercial service provides bus transportation between Pearson International Airport and several downtown Toronto hotels, including the Hyatt Regency Hotel. Bus fare is $21.95 CAD one-way, $36.25 CAD return fare. For schedule and more details please visit: http://www.torontoairportexpress.com/
From Billy Bishop Toronto City Airport
A taxi fare from Billy Bishop Toronto City Airport to the conference hotel, depending on the traffic, costs approximately $20 CAD and takes about 10 minutes.
From Union Station (Train Hub):
If arriving by train at Union Station, follow the signs that direct you towards the Union Station Subway. Make sure to get a transfer ticket when you pay your fare at the station. Take the University- Spadina subway line north to St. Andrew Station (1 stop). Board streetcar 504 or 508 westward (or walk west on King Street for 7  minutes to the hotel).
From  Inter-city Bus Terminal (610 Bay Street)
Take a cab or travel by subway to the hotel from the Inter-city Bus Terminal: walk west on Dundas Street for 3 minutes to Dundas Subway Station (southbound platform). Make sure to get a transfer ticket when you pay your fare at the subway station. Take the subway train south to St. Andrew Station (4 stops). Board streetcar 504 or 508 westward or walk west on King Street for 7 minutes to the hotel.
Getting to York University
There will be a conference shuttle from the Hyatt on King St. each morning (26th, 27th, 28th) between 7:45-8 a.m. (for arrival at the University for 8:30-9) with a return at the end of each conference day.
York is also accessible by public transit, but please note that it can take between an hour and an hour and a half to arrive.  ** Please note that the subway system will not be running on Sunday April 28th in time for you to arrive for the first session.
Please click here for campus maps and transit information.
(Maps will open in a new window)
Travel to Canada
All conference attendees arriving from outside of Canada, including those arriving from the US by any method (including ground), will require a valid passport to enter Canada. Canada also requires a visa for visitors from many countries.
Please consult the Government of Canada's "Find out if you need a visa" page or their "Visa Exemptions" list to confirm your status.
Official Letters of Invitation
HASTAC 2013 We would be pleased to issue an official letter of invitation to you, if required. Please contact us through this website. It is understood that such an invitation is intended to help potential attendees obtain travel funds or a visa. The letter does not constitute any financial commitment on the part of the Conference.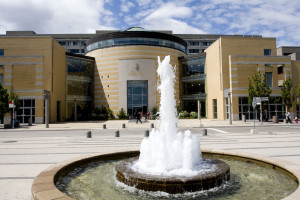 York University is a leading interdisciplinary research and teaching university in Canada. York offers a modern, academic experience at the undergraduate and graduate level in Toronto – Canada's most international city.
The third largest university in the country, York is host to a dynamic academic community of 55,000 students and 7,000 faculty and staff, as well as 250,000 alumni worldwide.
York's 11 faculties and 28 research centres conduct ambitious, groundbreaking research that is interdisciplinary, cutting across traditional academic boundaries. This distinctive and collaborative approach is preparing students for the future and bringing fresh insights and solutions to real-world challenges.
Many events will be held in Faculty of Fine Arts facilities in the Accolade East building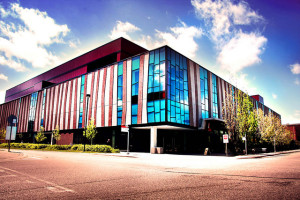 notably the Sandra Faire and Ivan Fecan Theatre, Tribute Communities Recital Hall and the CIBC lobby, as well as various classroom spaces.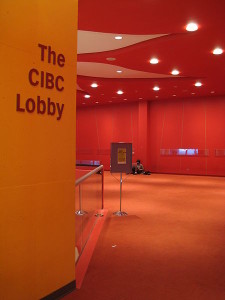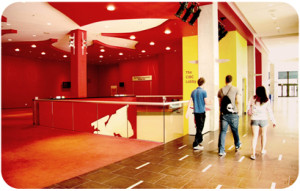 Some conference events will also be held in York's Scott Library, including the Atrium and Collaboratory spaces: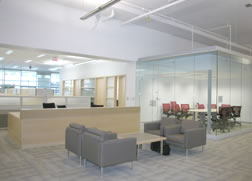 York University's Institute for Research on Learning Technologies will also be hosting activities. Located in the technology Enhanced Learning Building, the Institute for Research on Learning Technologies (IRLT) has a broad mandate to engage in systematic inquiry, discussion, and information sharing related to the uses of technology in teaching and learning.
Downtown Venues  (map)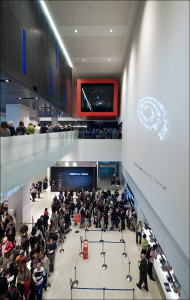 Our first conference event is our opening keynote (Cathy Davidson!) at 6 p.m. on April 25th at the TIFF Bell Lightbox.
Designed by world-renowned architectural firm KPMB, this unique facility provides an essential meeting place for film professionals, educators and film lovers from around the globe.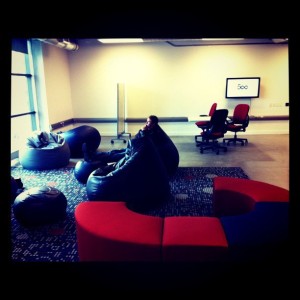 MOZILLA
Mozilla Spaces are open working environments where Mozillians can hack, code, design, research, create, engage and contribute to building a brighter future for the Web.  In August 2011 Mozilla launched new space in Toronto — right around the corner from TIFF — and they will be hosting our opening night reception!
Norman Felix Gallery
Norman Felix Gallery is an independent art gallery located in the heart of Toronto's fashionable Queen West heritage district. Founded in 2006, Norman Felix Gallery has steadily expanded to represent a wide variety of talented Canadian artists. They offer an array of contemporary paintings, photographs, illustrations, and sculptures by both emerging and established independent artists.